"The future of our trade"
Wall diagnostics... It's commonly rumored, & expected in the trade, to be the next generation of auto diagnostics. Wall diagnostics, of which the customers car will be plugged in at the franchised dealers repair workshop, via the 16pin plug over the internet to the manufacturers UK headquarters. Interrogation of the stored information on the vehicles EEPROM memory chip will be extracted via secure protocol. Information will then be relayed to the dealer technician via, HMI on how to rectify the fault. This is a scary thought to independent garages/repairers in the trade. But the facts are, the big motor manufacturers, earn there money in this order, new car sales first, parts secondly, revenue from electronic support to franchised dealers or the public is minimal. This is the reason they really don't put much resource or effort into it now. So I don't think we should, fret too much, they will still continue to want our money for the parts. Merc UK have given notice to most-all of their franchised dealers & are going to sell the cars themselves. That's a more worrying trend, then they may go for a complete monopoly. (17-01-05). Wall diagnostics has landed... Volvo VIDA using a DICE interface is here... The good news is, even if you are not a franchised dealership you can have it, as long as you pay! There info TIS is available to everybody. But for wiring diagrams and software you need to be VAT registered. You can have it by the day or month or year. At a price! (10-03-11).
Diagnostics... I think there is more money to be earned out of selling diagnostic equipment with monthly paid updates, than buying it & using it! All the big named automotive tool suppliers are pushing forward with serial data, which is something I would not invest in. The oscilloscope is the tool of the future, not many people are converted to this fact as yet. (29-04-07) Our local Vauxhall main dealer still does not have one! (02-05-12)
Customers paying for diagnostics work... I asked a customer today to commit to fours hours labour for diagnostics to find a turbo boost problem on a Honda. He kept telling me how much the turbo cost which had been fitted by another garage which he did not need! He kept asking me what the problem was with the car and how much the repair will cost. I replied, I did not know till we had enacted the correct diagnostic procedures, which could take up to four hours. He drove the car off in limp mode, very likely to another garage to have another guess and get some more parts fitted he did not need! One day the general public will learn what is the cheepest option. We have now stopped doing warranty work as warranty companies will not pay for diagnostics. (02-05-12)
Programming new parts... Is going to be the next real headache for independent repairers, any addition to CAN or LIN systems using new parts will need identifying 16 bit codes installed in the parts or they won't work. The big trade is having problems with software support. Mainstream diagnostic equipment companies are now adding some programming functions into there equipment, but not many. This is not an impossible science or new technology, industrial machines in factories with electronics using system integration have been using identifying codes for over a decade, Time Electronics USA being the market leader. The problem is and will always be, knowing or extracting from dead parts, the correct code for installation into new parts. Unlike systems used in industry, it will be nearly impossible to change the identifying code on the main control module. I doubt if the main dealer networks are going to be any help on the subject. (12-05-07)
IR ports... Auto security is the biggest minefield & a constant headache to the independent repairer. With the advent of IR port systems, any fault will cause a "lock-out". Without enabling IR unlocking & thus override of the security system, no access to vehicle will be possible. The general public & insurance companies love all this high tech security kit. It works, car theft is dropping. The biggest threat to the future of independent repair is going to be the security element. (22-05-06)
Air-con refrigerant HFO-1234YF... European law has dictated R134A is too harmful to the environment. They have agreed (enforced) that HFO-1234YF is the replacement. Mercedes have fitted it to a few new cars, then withdrawn it due to the new refrigerants high Butane content and the subsequent fire risk. At the moment there is only two chemical companies in the world which produce HFO-1234YF. We are led to believe is will cost £300 a kilo (R134A costs about £10 a kilo). VAG group are experimenting with 3000psi CO systems, which will be very expensive for sure, but has zero impact on the green house effect. In the early 90's the industry changed from R12 to R134A without these problems. Twenty five years of enducation and progress has not improved anything. The only thing I can see from this is very expensive car air conditioning systems. (07-05-13)
Common rail diesels... Are a vast improvement over EDC rotary injection pumps. EDC electronic pumps are slowly being phased out by manufacturers. They have been a disaster for the diesel owning public, with the high cost and complexity. The trade have suffered with diagnosis and been afraid of replacement due to the high cost of parts & labour following uncertain diagnosis. With 1000bar delivery from common rail systems, yet more new test equipment will have to be purchased. (19-11-06)
42v. Leoni who make OE wiring harnesses are already developing 42v systems for manufacturers at present for models not yet announced. 42v is going to be the new standard and is based on 3 x 14v. They will use 14v and not 12v as automotive voltage. It's based on 14.4v peak voltage from three or six phase alternators. Batteries will be same size but have internals the same as three normal batteries. The reasoning is that electrical demand for all the equipment is increasing. The existing 12/14v system means high amps and thicker cables. Of course the trend is for lightweight so going to a 42v system results in thinner cables than a even for a 12v system. This isn't Leoni's decision but an agreement between the various electrical parts manufactures, car manufactures and related industries for it to become the new "standard". It's likely these systems might involve numerous mini inverters all over the vehicle to drop the 42v down to 14v - on the other hand it might just be 42v bulbs etc. (15-01-08)
UIS-EUI-PD Diesel Injection systems... Although regarded as a whole new system the actual principle of this injection system began with the American engine builders, Cummins. The Cummins PT systems was fitted to many trucks and became a legend at that time, due to it's reliability and economy. UIS (unit Injection System), EUI (Electronic Unit Injection) or PDE (Pump Duse Einheit) systems are fitted to an increasing number of vehicles including Volvo FH12 trucks, LandRover TD5 and VW newer diesel engines 1.2-1.4-1.9-2.0. This injection system also has no distributor injection pump and injection pressures up to 2000bar are achieved via the cam shaft acting upon the individual pump unit per cylinder. Again, this system is highly sensitive to contamination and the price of replacement parts is very high. (02-07-06). VW are giving up on the PD system and going to HDi, apparently PD can't be further developed to match the nasty tricks of the piezo injectors, twelve squirts per bang, post-injection, disintegrating programmable expensive injectors, just look at the problems Ford have had with TDCi injectors. Shame to see it go; always thought combining the injector pump and the nozzle was such a tidy and elegant way of doing diesel injection. Still, a VW designed, thrown together, HDi clone, built from the cheapest parts they could find from the nether reaches of the globe ie: China. We're all going to be rich in the repair trade! If VW still have any customers left by then. GM have lost allot of customer confidence over EDC diesel pumps. (07-01-07)
Euro 5 diesel cars... Fitted with Diesel particulate filters should stop being sold to customers who only do short town-city runs, the cost of filter replacement due to non completed regeneration is unfair. Customers just don't understand the process... If passive regeneration is possible when the car is stationary, i.e. part of the exhaust heats up to above 600 Celsius. I am just waiting for someone to get burned to death sitting in a traffic jam. I recently took the time to read a customers owners handbook supplied with a new car, very little mention of the DPF and definetly no safety warning about parking on dry grass fields with the engine running. (02-10-10)
Diesel engines. With the discovery of NOX (mono-nitrogen oxides) being bad for your health. Diesel engine cars and vans will be history like the horse and cart. It is just going to cost too much to clean the exhaust fumes up! The buying public are rejecting diesel models due to high maintenance and repair bills. The goverment will tax diesel engines out of the game. High pressure petrols are the future. (16-12-14)
Parts quality... This has to be one of the biggest up and coming problems to the inderpendant vehicle repair trade. Main dealer supplied parts are just so expensive. The buying public can't afford them or won't justify the purchase, taking into account the value of a used car. So for a reasonably priced repair, the only option is pattern parts, the problem arrises when the low cost part fails after fitting, its the garage which has to honour the warranty. Lost labour in the future may well account for 10-20% of a garages hourly rate. Big jobs which include recon engines and gearboxes, could be a thing of the past! Reason being, once you have fitted a unit which has been sent off for repair, it may not be any good when fitted. Any part which has been pressure washed and sprayed black may look nice, but who pays for the labour when its no good. Most clever garage owners will get the customer to purchase the parts for large jobs now. So when it fails, its the customers liabilty not the garage owners! (26-12-11)
Parts Prices... Quote a customer for a repair, within seconds they will be on a smartphone, checking the parts prices you have quoted on ebay. It's a fact. The margin you can get on parts is getting less and less. Add the warranty claim issues. Time spent on the phone. Money outlay. The future may be supplyng only labour and comsumables. This arrangement may be better suited to a "one man band". The upside is, when the customer supplied part fails. It will be him on the phone dealing with it. The repairer will just get more paid labour fiting the replacement. (08-03-14)
Mobile Mechanics versus trading with premises... High property prices are killing the small garage trade. If you are starting out, buying property is out of the question. Leasing premises and paying rent is very expensive. If you are in, an existing business, you may well earn more money, shutting up shop & turning your workshop into a building site & selling houses instead of fixing cars. Hourly labour rates are going thru the roof to support these overheads. Mobile mechanics are not, very well excepted by the general public, but they may well have to get used to having there car fixed down the drive. Unless they want to pay £80 an hour for the privilege of taking the car to a small garage. Main dealers are already charging well in excess of this figure. Some close to us have broken the £100 + Vat an hour threshold. Menu type pricing hides this fact, for clutches, brakes & servicing. But for diagnostic work they are unable to hide the hourly rate. I can see a time when all new auto repair ventures. Will consist of a highroof, bright yellow Mercedes Sprinter or Transit, adorned with loads of signwriting. Towing a four wheel flatbed car transporter trailer fitted with a battery powered scissor type mid-lift. Due to the nature of modern car repairs, you could fit a electric start petrol air compressor, adjacent to the vans bulkhead, for all your power needs, air tools are cheap now. A modern 240v-12v inverter could run a laptop for diagnostics. Fit 12v work-lights and a race team like awning (Fiamme) on the side of the van for dark winter evenings. Winters are mild now! We've have all heard of global warming. We do so little welding now, you would not need a generator, maybe a port-a-pack for getting things apart. Even plug in little 13amp gasless MIG welder at your customers house. If you give it a bit of thought, all jobs can be done in this manner. Gas soldering irons, low powered LED work-lights, split charge relay to a lorry battery for starting, portable oscilloscopes & test equipment. Trade liability with third party only insurance is dirt cheap for mobile mechanics. Mobile phones are now accepted in the world we live in, you can even take card payments by chip & pin via a compact mobile phone type handset supplied by your bank for £25 a month plus 2%ish of the amount. Mobile tyre fitters struggle to attract custom from private car owners, but the time will come for them, I'm sure. No aggro from DEFRA over waste oil & as long as the van says recovery on the side, I can't see how the Police would be able to move you on. Even if they did, it wouldn't matter if you moved a part disassembled car on a trailer, to another location to complete the repair. (08-03-07)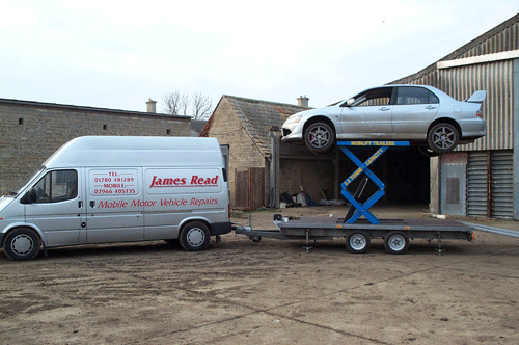 MOT Testing... Nobody in their right mind would venture into setting up a MOT testing station nowadays. Due to the added cost, since the introduction of single operator bays & computerisation, limiting the amount of tests that can be done daily. Plenty of talk about only testing cars on forth anniversary then every two years, instead of three years and then every year. Google 4 2 2 MOT it supprised me! (08-03-07) 4 2 2 MOT testing has died a death for the moment. I fail to see where VOSA and the government are going with MOT testing, the new rules introduced in Jan 2012, have been staled to April 2012. The new MOT certificate introduced in Oct 2011 was not welcomed well by customers. The common feeling is the authorities want to remove some of the old cars off the road to boost new car sales. (28-04-12)
Skilled Labour... May well be the next problem. Simple fact is small garages are not paying high enough wages to attract the right kind of employee. Main dealer technicians may well earn more money and be well trained in one make of car and one type of diagnostic equipment. But small independent garages have to deal with multiple makes of cars, old and new! The small garage does not have a parts department, laden with expensive spares to fix faults by substituting sensors and modules. Customers don't want to pay high labour rates. This has knock on effect for wages and thus the quality of repairs. "Pay peanuts, get monkeys" It is a fact... (26-12-11)
Price and complexity of repairs... If you work in factory or a supermarket on minimum wage or earn a slightly higher salary. The last thing you need is me leaning over your car imforming you the clutch with a dual mass flywheel will be £800-1000, a set of common rail injectors will be £1000 fitted, or it needs a DPF filter at £500 a throw. Repairs just cost so much now! Customers are not having the cars serviced. We are towing cars in, that have run out of oil or the wheels have fell off. It's a fact... The days of multiple car ownership for families are over. A run-a-round for the wife is a thing of the past. With the price of fuel. Insurance for young drivers is extortionate. Car ownership is going to be privilege for the rich as it was in 1940s.
Selling cars for a living... Forget it! The customer has the same consumer protection rights when they buy a £700 banger than they do when they buy a £70.000 new car. Ridiculous I know but true. It is just not viable to give that sort of customer care out of the tiny profit generated from a low cost car. A cam belt, water pump, service and MOT can cost £400 on a car if you do it properly, even at very low labour rates. That more than half the value of the £700 car. Simple mathematics will tell you the whole second-hand car selling trade has no choice but to take short cuts. Anybody with any sense is selling used cars on ebay to "away day customers" with little or no warranty.
Selling specialised car parts on the internet... Better idea! Providing a low cost solution to common car faults and advertising to the world from your garden shed with low overheads. Gotta be a better idea for sure! (28-04-12)
"The Right to Repair Campaign" has been created by the independent automotive aftermarket in response to potential changes in legislation in Europe that could drive all repair work into the vehicle manufacturers franchised dealerships.
Block Exemption Regulations (BER) were introduced to give the consumer the freedom to choose where he/she had his car maintained without negating manufacturer's warranties so long as original parts or parts of matching quality had been fitted by the repairer. To enable repairs to be made, the vehicle assembler under BER should make technical information freely available to the independent market. BER ends in 2010.
By accident or design vehicles are more complex and access to information is being restricted in most cases by the price that the vehicle assemblers charge therefore negating the benefits that BER was intended to bring. In addition using a loophole that restricts access to technical information in certain circumstances it is becoming increasingly necessary for vehicles to be sent to the dealership for 'recommissioning' even if the repair has been successfully completed by the independent repairer.
The effect of this on the independent repair industry is that inevitably there will be fewer vehicles that they are able to repair and if the vehicle assemblers succeed in their aims the independents will be fewer if any exist at all.
The effect on the consumer will be the reduction of choice on where the vehicle is repaired and an increase in cost of repair. There are far fewer franchised dealers across the UK than independent repairers. The consumer will be faced with further distance to travel to have a vehicle maintained or repaired and therefore greater cost in both financial terms (fuel) and in terms of time.
The hourly rate of the independent garage is half that of the franchised dealers (source GIPA UK ltd Operation Rate Trends March 2007). The cost to the consumer of repairs could double! The knock on effect could be that vehicles are serviced less often meaning they operate less efficiently, coupled with increased distances to travel for repair this will create a negative impact on the environment. Lack of regular servicing will undoubtedly lead to unsafe vehicles on the road at what cost?
With the exception of the Vehicle Assemblers and their dealerships it is in everyone's interest to ensure that R2RC succeeds in its aim – to ensure that the consumers right to chose where they have their vehicle repaired is protected and to ensure that the repair arena remains a competitive one.
We actively support "The Right to Repair Campaign". We have written to our MP in support of the campaign. Who in turn has written back asking for more technical details in support of the debate. (11-12-07)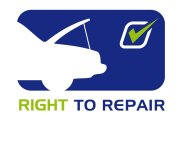 It is rumoured in the trade, that several German manufacturers including Porsche, BMW, VAG and Mercedes. Have been prosecuted under Block Exemption Regulations. Downside is that the fines imposed on them were tiny. Facts are, the big trade is just going to pay. Unless a draconian penalty is imposed. (22-09-08)
Block Exemption Regulations are also rumoured to be changing at the end of 2012. Watch this space!
Page updated 28-05-18
"The RoadFitter"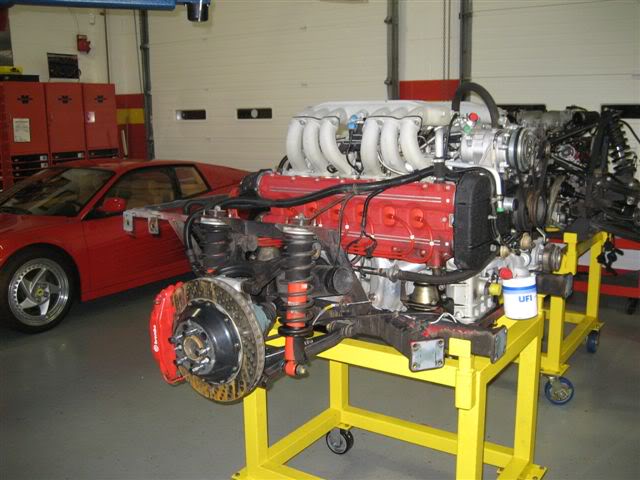 Ferrari engine swap, it's the same subframe trolley we use to remove Vauxhall CDTi Vectra engines & subframes in one lump from underneath a two poster ramp.
Few lengths of steel box, cheap wheels, nine inch grinder, welder and some yellow paint and there they are! It is impossible to buy this type of trolley!
(date information written)